At A&A Wiping Cloth we work with all sizes businesses, from national distributors to mom and pop stores to people who just need a box of rags for their garage.
Based on this we offer boxes in various sizes to fit your business needs. While a common order is usually a 25 lb - 50 lb box or bale, we also offer 5 lb and 10 lb boxes or even 1 lb and 2 lb and a dozen pack poly bags.
Let's take a look outside of the box for just a second.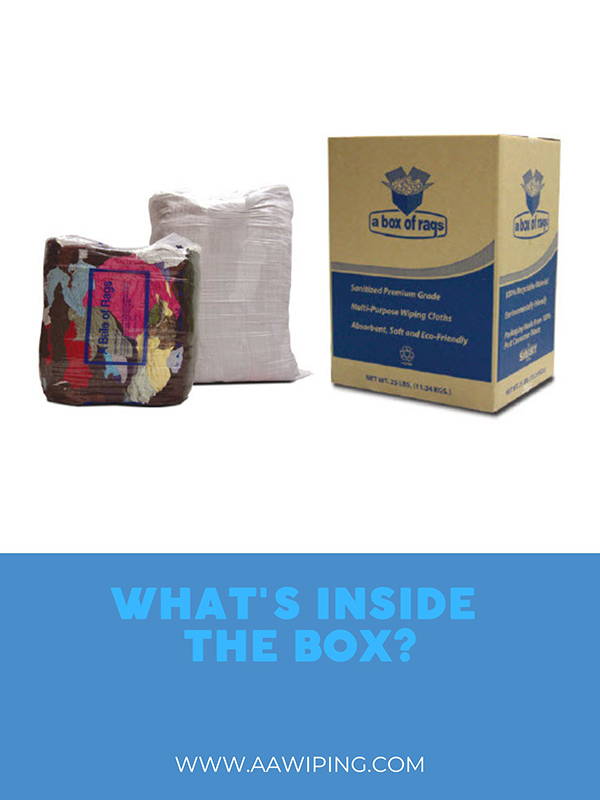 The Label:
We supply you with all the details of your order directly on the box. Our effective labeling system gives you the company name, address and part number of the ordered wiper. If you need us to go further, we offer barcodes, private labeling and company logos to custom boxes. Need something special just give us a call and let's see if we can figure something out.
The Contents:
First thing we want to point out is that we work off net weight. What does that mean? When you open your box and take the rags out you have the exact or slightly over weight of your order. You will see your box is perfectly stuffed so there isn't a lot of wasted space.
Alright now the box is open and you will feast your eyes on 100% brand new or certified recycled wiping cloths. We don't waste any space. All boxes are full to the brim, fresh, clean and ready to be put to work.
Recycled products such as our surgical towels, white flannel, color knit, terry towels, white knit and many others are all processed in our Los Angeles facility by trained cutters and box packers. If your rags are cut from larger pieces, like a blanket, we do our best to cut them into pieces as uniformly as possible and we remove all buttons, zippers and large tags.
Unboxing Rags from A&A Wiping Cloth
---
---
---
---
---